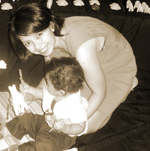 Welcome! My name is Claudine David, an Early Childhood Education teacher and a parent of two boys myself. I have always loved teaching and spending time with young children. It has been my dream to start a school with teachers that share the same philosophy we have here at Growing Seeds Preschool.
Teaching young children is not always about fun and games, although there are certainly lots of it! Teaching young children involves consistent messages and encouragement. It is about coming up with creative activities that allow children to express that little voice inside them that's just waiting to be heard. It requires teachers to be fully-engaged in observing children's actions and behaviors, particularly those of toddlers, who are still learning how to talk! It definitely takes a lot of patience, understanding, creativity and a lot of energy to work with young children every day. We absolutely love our work!
As a mom, one of the things my husband and I consciously do is to let time slow down when we are with our children. As much as we can, we turn our gadgets off and sit on the floor to play with them. This is our way of being fully engaged with them.
Some recent innovations in early childhood education promise an edge above other children in cognitive and leadership development. Some programs (read: not all) put undue pressure in a child's development and unknowingly create a form of 'fast-paced' lifestyle for children.
I started this school to let time slow down for my students. Our teachers are here to be fully engaged with the students. I want to bring a sense of community, where teachers, parents and students have a shared interest in the child's holistic development. One of the greatest gifts that we, at Growing Seeds Preschool, can give is a good foundation in life that is a full and enriched childhood.
Sincerely,
Claudine M. David
Founder and Director